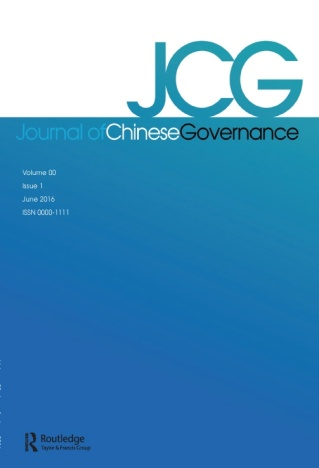 Journal of Chinese Governance (JCG)由浙江大学公共管理学院创办,于2016年由国际著名出版社Routledge正式出版发行,旨在发表探讨当代中国治理重大理论与实践问题的原创前沿研究成果,所涉及的研究课题涵盖国家治理能力与现代化、地方治理、公司治理、非营利组织治理、社会治理、政策治理、环境治理、能源治理、气候治理、市民参与公共事务、公共服务、中国参与全球治理等各类相关课题。
同时,JCG还致力于为该研究领域中外学者的学术对话提供具有可见度的学术交流大平台、传播能引领中国治理研究这一常新领域的学术成果、激发更多国际学者从政治学、公共管理、公共政策、社会学、经济学等各门学科参与研究中国治理。JCG所发表的全部研究论文均经过严格的匿名评审,除了出版原创的研究论文,还发表论文专辑和评议治理各领域新兴研究课题成果的书评。欢迎各类投稿及基于各类学术会议或学术工作坊而编辑的专题论文专辑。
JCG网址:https://www.tandfonline.com/toc/rgov20/current
Journal of Chinese Governance (JCG) is founded by Zhejiang University School of Public Affairs, and to be published in 2016 by Routledge, one of the world's foremost academic publishers.
JCG aims to publish original and cutting-edge research in all areas of governance theories and practices in contemporary China. Topics to be covered include China's state governance capacity, governance modernization, local governance, corporate governance, non-profit governance, social governance, policy governance, environmental governance, energy governance, climate governance, civic engagement in public affairs and service delivery, China's engagement in global governance, etc. In the meantime, JCG also seeks to provide a major and visible platform for the intellectual dialogue between Chinese and international scholars in this emerging field, disseminate scholarship that can shed light on the ever-changing field of Chinese governance, and stimulate a growing number of international scholars to study Chinese governance from the disciplines of political science, public administration, public policy, sociology, economics, and many other areas.
JCG is a peer refereed academic journal. All research articles published in this journal shall go through rigorous peer review process. In addition to original research articles, the journal also publishes special issues and book reviews to disseminate scholarship and research results of emerging topics in all areas of governance. We welcome paper submission or propose to guest edit a special issue based on conference or workshop papers. Please do not hesitate to contact us at jcgeditors@zju.edu.cn if you have any question.
Journal of Chinese Governance
Publisher: Routledge
Founder: Zhejiang University
ISSN: 2381-2346 (Print), 2381-2354 (Online)